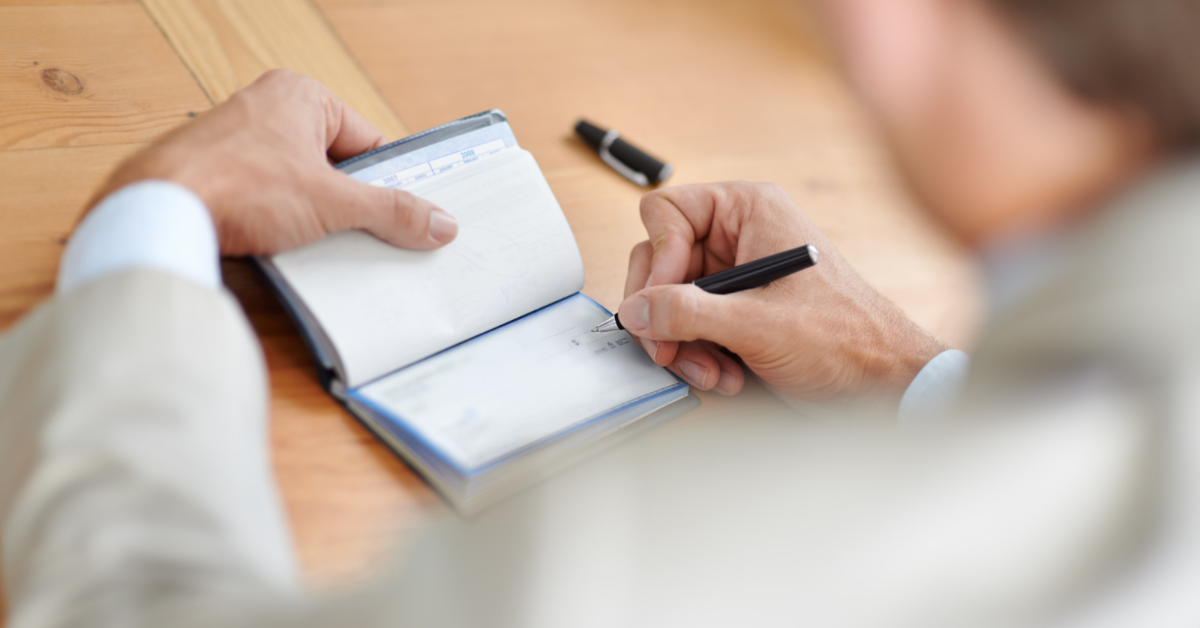 How much of your life have you wasted waiting on paper checks? Waiting for a paper check to clear? Or chasing down the right people at the company to write and then sign the check? Or waiting for a check in the mail to arrive? Large amounts of money transfer multiple hands during real estate transactions. Using paper checks for these money transfers increases the number of parties involved. Each touchpoint holds potential for delays, mishaps, and even fraud. Inefficiencies of paper checks in the real estate transaction process are numerous. These can include, but are not limited to:
Chasing paper checks (having to drive around to get them or track someone down, waiting for approval signatures)
Losing a paper check in the mail
Length of time paper checks take to clear
Waiting in line at a bank to get a certified check
Paying fees on certified or cashier's checks
Bounced checks due to insufficient funds
Check fraud
Chasing Paper Checks
Sometimes you might find yourself chasing a paper check. You might need to track down the necessary approval signatures, which means chasing down the authorized staff. If staff are not available or accessible for actually issuing the paper checks, then the process halts. If appropriate staff are not available or accessible for approval, then the process halts.
Check Lost in the Mail
Checks actually do get lost in the mail. And they certainly get delayed in the mail. The United States Postal Service (USPS) has come under fire recently for its many service failures. The USPS delivery times have reached historic lows. In most states, it took at least five days for a piece of first-class mail to arrive in January 2021, according to data provided by mail-tracking vendor GrayHair Software. The USPS aims to deliver local mail in two days and nonlocal mail in three to five days, but at the end of 2020, the agency had an on-time rate of only 38 percent for nonlocal mail, according to data reported to a federal court.
Check Stolen From the Mail
You might be surprised to learn that the USPS has no reliable system for tracking mail theft, despite the sobering fact that Postal Inspection Service data showed that mail theft reports soared by 600% over the past three years, from about 25,000 in 2017 to roughly 177,000 through August 2020. Anecdotal reports of mail theft abound today, but stealing checks from the mail is no new phenomenon. The Treasury Department published a final rule in December 2010 to eliminate paper checks for federal benefit payments. One reason cited was for enhanced safety since in the year prior to the switch, more than 540,000 Social Security and Supplemental Security Income (SSI) paper checks were reported lost or stolen and had to be replaced.
Check Clearing Time
When you deposit a paper check, the funds typically are not available to you immediately. Banks place holds on checks to ensure the funds are available in the payer's account before giving you access to the cash. Each bank has its own policy regarding hold times and availability of deposits. A check clearing time of two to five business days is typical. Note that large deposits may require a longer hold time, with some banks holding checks in amounts of $1,500 or higher for as many as 10 days. Though federal law (Regulation CC) requires that banks make at least part of your deposit available to you within a few days, the majority likely will not be available for many days. Lengthy check clearing time represents a significant inefficiency in real estate transactions.
Certified Check vs. Cashier's Check
Because of the additional risks associated with accepting personal checks, most real estate transactions require using a certified check or a cashier's check.
For a certified check, the bank verifies that the account holder has enough money in the account to cover the amount of the check. The account holder signs the check, as does a bank representative. The word "certified" or "accepted" is printed somewhere on the check. Most banks charge a fee for a certified check, such as $15.
Not all banks offer certified checks. You may need to provide a cashier's check instead. A cashier's check also offers a guarantee to the payee that there is enough money to cover the amount of the check. A cashier's check draws on the bank's funds rather than an individual account holder's funds. You must know the specific payment amount and the payee's name, which will be filled in by the bank. Some banks charge a fee of $15 or more for a cashier's check.
Insufficient Funds
When a check bounces due to insufficient funds in the account, this does not bode well. Though the buyer might have miscalculated the amount of money in their bank account, the bounced check might be a warning flag of something more alarming, such as a buyer's inability to secure a mortgage, make a down payment, or attempt to commit real estate check fraud. Regardless of the reasons underlying the bounced check, the repercussions are many to both parties, and the money must be recovered.
Check Fraud
Check fraud happens. Signatures are faked, fraudulent accounts printed on paper checks, amounts altered. A survey in 2020 by the Association for Financial Professionals (AFP) found that checks continued to be the top payment method impacted by fraud, with 66% of surveyed payments professionals reporting check fraud activity.
Paymints.io was built to help eliminate the inefficiencies of paper checks. The paymints.io platform not only helps prospective home buyers deposit their earnest money directly from their checking account when making an offer on a home but also gives escrow holders and settlement agents the ability to disburse funds to clients and vendors, too! It also helps clients who are refinancing transfer the funds needed for their cash to close to the title company's escrow account. Paymints.io is the quick, digital, secure, and simple way to send money during any real estate transaction. Learn more by scheduling a demo today!