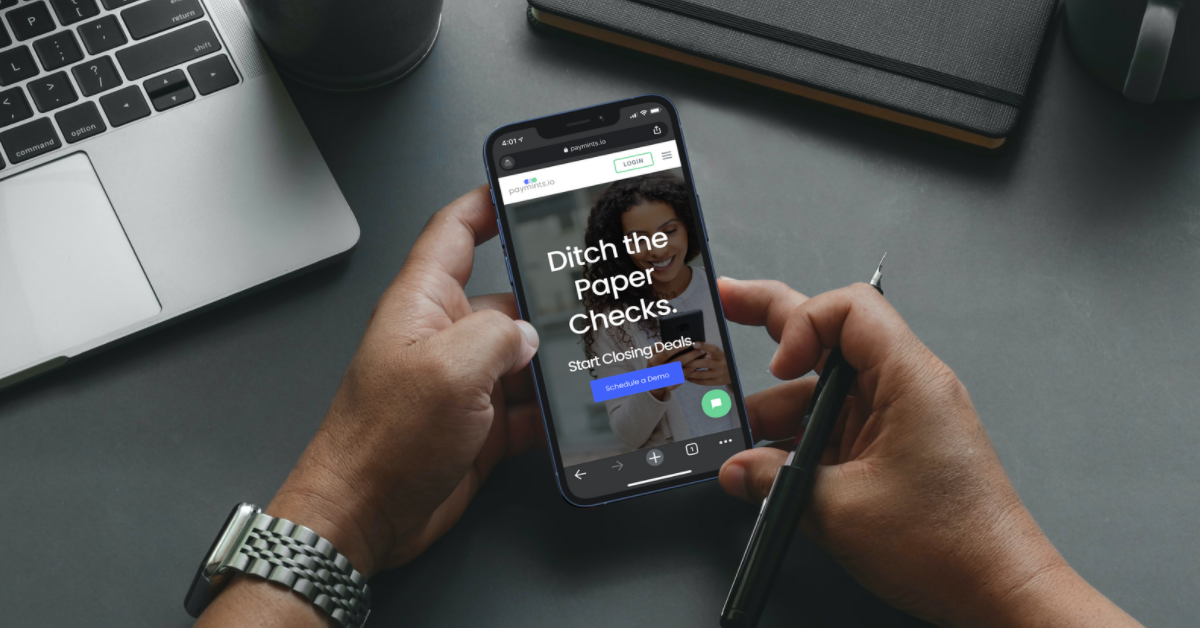 The country's real estate sales and brokerage market is worth an astonishing $156 billion alone. Meanwhile, home values, property sales, and new construction all continue to grow at unprecedented rates. All of that means an abundance of clients and revenue for the title industry, especially if you're open to technology to tap into it. As digital solutions become the preference around the world, real estate's traditional approach is slowly fading. Paper-based processes are being waved aside in favor of more automated tools, and we're happy to be a part of the transformation of how the title industry does business to make a better experience for all involved. Of course, we understand that change can be overwhelming, but it is small enhancements like introducing paymints.io that can ease your business into the future with positive, time-saving effects for your team and your clients. Here's why paymints.io would be a seamless and great enhancement for your business.
#1 Digital adoption means a sharper competitive edge.
As of mid-2020, the American Land Title Association (ALTA) announced that nearly 30% of title agencies were offering a digital closing solution to accommodate changing requirements during the pandemic, but that's only the tip of the iceberg.
The real estate industry has seen a gradual shift towards digital solutions, from virtual tours to e-signed offers, and everything in between. The pandemic further sped up the adoption of these digital solutions, but it's not a change that's going to be "undone," even as life shifts back to normal.
For title professionals, digital solutions aren't just the new normal, they're becoming the new standard. This means adopting digital tech is more than a best practice, it's a wise business move that will help you keep your competitive edge sharp.
#2 Consumers care about advanced security.
Security goes beyond keeping consumers' information secure. While data privacy is essential in today's modern world, real estate professionals know good-and-well that threats come in many forms. Consider the $1 billion consumers lose to real estate transaction scams every year, with the frequency of schemes like mortgage wire fraud continuing to rise.
Ultimately, we both know security is about more than making sure data is encrypted, but how do you get to the next level of security? Paymints.io makes it possible. The entire paymints.io platform is protected by bank-level security that encrypts all sensitive information.
Plus, all funds are held in escrow where they're safe and sound until they're ready to be released to the right party. With no paper checks, manual deposits, or cash, paymints.io further secures transactions by ensuring every dollar is accounted for as it changes hands from the buyer, to the escrow manager, to the seller.
#3 Human errors create delays and complications.
There's no denying that manual, often menial, processes are prone to human error. Foremost, human errors are frustrating because they can lead to unnecessary delays. Those delays not only impact revenue flow, but they affect the reputation of all professionals involved and they create frustration for the clients who are counting on a timely close.
Meanwhile, human error also lends itself to another issue: reporting issues. It's already hard enough trying to get reports and analytics in order when you're dealing with so many paper-based processes, but errors make things even harder (if not impossible).
With a digital solution like paymints.io, manual busywork is taken out of the equation, reducing the chance for errors to occur at all. By nature, paymints.io also makes effortless reporting fast and easy, and that will make everyone on your team happy.
#4 Paper-based processes take away valuable time.
There's a reason most employees feel they could cut a whole six hours out of their work week if they could automate the repetitive aspects of their workday. Menial work isn't just time-consuming and error-prone, it's frustrating and even exhausting for the professionals who have to put up with it.
Digital solutions of all sorts can save companies money, but taking the paper out of your processes is the number one way you can expect paymints.io to make a major improvement. Not only will our platform save you hours of paid labor each week, but we also speed up the processes that used to take hands-on dedication to complete.
By using paymints.io, your business can expect less touch work for every client, and even quicker results. By reducing human labor, paymints.io can even drastically reduce how long it takes to move clients from one phase to the next, speeding up the journey for everyone involved.
#5 Consumers demand quick, convenient transactions.
When it comes to a consumer's expectations, modern clients expect two things: speed and ease. The customer experience looks vastly different today than it did just a few years ago, and that's thanks to continued adoption of digital solutions. All the benefits discussed so far add up to one thing: Faster transactions.
Without the need to write a check and take it to escrow, who will take it to the bank and put it into the account, paymints.io cuts multiple steps of touch labor out of the process, but that's not where it ends. Thanks to powerful integrations like titleLOOK, paymints.io creates a robust and seamless experience.
Clients will enjoy the convenience of transferring funds out of their account, straight to the intended destination. Not only do transfers happen in less than 60 seconds, but consumers enjoy the peace of mind and confidence that comes along with the secure, fully branded dashboard experience.
#6 It's all about accessibility and transparency.
Today's consumers expect to be in-the-loop at all times. This is something other methods lack, especially if you're depending on paper-based processes. With paymints.io, everyone is always on the same page.
Consumers will enjoy a mobile app that gives them easy access to the agent they're working with along with anyone else they may need to talk to for help. They can even handle funds transfers from the mobile app. After sending funds, they'll benefit from real-time tracking that tells them exactly what's going on.
Paymints.io takes the guesswork out of handling complicated real estate transactions, which cuts down on how much time your professionals have to spend giving updates and managing the back-and-forth between parties.
#7 An all-around enhancement for title professionals.
Let's be honest: Real estate is rife with tradition, but digital has major advantages over the outdated paper processes that are holding so many title professionals back. At paymints.io, we know that adopting new technology can certainly feel daunting, but rather than viewing it as a change that has to happen, our happy clients see it as an opportunity for enhancement that's yet to be realized.
With so many upsides to adopting paymints.io, what are you waiting for? Paymints.io can transform the experience of your users and partners, while saving valuable time and emphasizing security, privacy, and the personality of your brand. If you're interested in learning more, schedule a demo today and let a friendly team member show you what paymints.io can do.