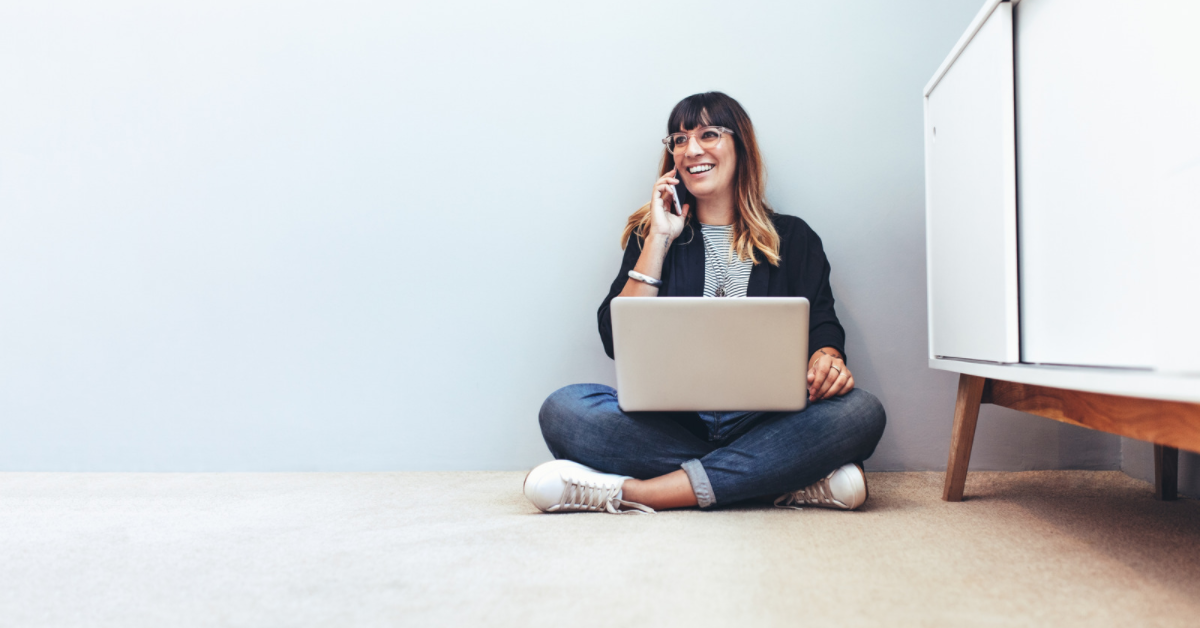 As a real estate professional, you've likely met agents who always seem to close deals left and right. Every time you talk to them, they're explaining that they've just come from a closing and will barely have time to submit an offer in the car on the way to another showing. So, how do these real estate agents stay so busy? The answer is likely a lot of prospecting — cultivating leads that will hopefully become clients. If you want to become that kind of agent but don't know where to start, you'll benefit from learning some prospecting tips for real estate agents. Keep in mind that experts recommend you spend at least one hour per day trying to get new leads. So to get started, try to do at least one of the following prospecting tips for real estate agents every day.
1. Publish Helpful Content
You should have a real estate website with a blog, plus a page on at least one social network. In fact, one study found that 44% of real estate agents got a new client in 2020 by posting on social media. So, you definitely need to have an online presence, but that's just the beginning.
Once you have a website and social media pages, you need to post helpful content regularly. After all, if someone sees that you haven't updated your Facebook page since last year, they'll wonder if you're still in business. They'll be more likely to reach out to the agent they know is still selling homes — the one who posted online this morning — than the agent whose page is practically blank.
The same goes with your website, especially if you have a blog or news section on it. If the last post was from months ago, it will look like you either lost interest in your business or have nothing to say about real estate. Neither one is a good look!
So, what should you post? You can start by using your social media pages to post simple tips for buying and selling homes. If you have clever staging ideas or ways to get more offers on a home, post them on Facebook. If you have more to say about the topic, consider expanding it into a blog post for your website.
Of course, you should always use social media and your website to post your latest listings, making sure to include quality images and well-written descriptions. The following are some other content ideas for your website and social media pages.
Updates on the local market
Fun facts about your city
DIY ways to improve a home
Articles about the best areas to move to in your state
Free local resources
Funny pictures that relate to real estate
Client testimonials
The point is to establish yourself as an expert on real estate and the area you serve while keeping your name in front of potential clients. That's why this is one of the most effective prospecting tips for real estate agents.
2. Make Live Videos
Live videos are a great marketing tool for selling houses. Plus, they make it easy to mix up the content on social media so it stays fresh and interesting. Interspersing videos with written content and images will keep your audience coming back to your social media pages, especially if they know you upload their favorite types of content regularly.
For instance, you can post a live video of you walking through your latest listing every Friday morning. Your audience members will know they'll get a live walk-through of a house for sale at least once per week, so if they're in the market to buy, they'll want to tune in! And once the live video ends, you can add the recorded version to your website and social media archives to get more views.
3. Attend Local Events
You can also check out local events if you prefer communicating in person. Even if you're shy and feel out of your element with crowds, you should still attend community events as much as you can. To be successful in this business, you need to create relationships with people around you, not just try to close transactions. And socializing at events will help you connect with a lot of people in one day.
So, keep an eye out for events your city or a local business hosts, such as carnivals, parades, holiday celebrations, or grand openings. When you go, remember that the goal is to connect with people, not simply sell your services to them. When people sense your positive attitude and willingness to chat, they'll be more receptive to you than if they think you're trying to sell them something.
4. Promote Local Businesses
You want to show buyers and sellers that you're familiar with the area you work in. After all, everyone wants a real estate agent who knows the best neighborhoods, the top-rated schools, and the most beloved businesses. You can show off your knowledge of all things local by promoting small businesses in your city.
One of the simplest prospecting tips for real estate agents trying to help other businesses is to publish positive information about them. And thanks to the internet, you don't have to put an ad in a local newspaper or magazine! You can use your current online presence to make a difference.
For example, pick a small business to feature every week or every month. Once you choose one, write a brief article about why locals should try it out and then post the article on your blog. You can also post this feature on your social media pages. Even just posting a nice picture of a local business on your Instagram page — with a brief pitch on why it's the best around — can show your knowledge of the community and how much you care about the area you're licensed to work in, which appeals to buyers and sellers.
Using this approach lets you create original content for your website and social media pages, which helps you stay in the public eye and increases the chances of someone remembering what you do when they need a real estate agent. You also create goodwill with local business owners who may recommend you or even hire you when they need to buy or sell!
5. Do Some Giveaways in Your Community
Another one of the best prospecting tips for real estate agents is to give away something that might appeal to people in your community. For example, everyone likes free coffee, so consider going to your local coffee shop and buying a drink — or a $5 gift card — for everyone there. Then sit down and hang out for a while.
Most likely, a few people will come by and thank you for the coffee, which will get a conversation going. Be sure to have business cards and flyers for your latest listings or market reports available to give people after chatting. Even if you don't get any direct business that day, you'll make some connections and get your name out there — and that means some people in your community will know you as the nice real estate agent who bought them coffee. That can't hurt when their friend needs a real estate agent down the road and they're trying to think of someone to recommend!
These prospecting tips are all about connecting with people who may become clients. But once you get those clients, spend as much effort making their experience go smoothly as you did trying to convince them to hire you.
Making it easy to pay for closing costs and other fees is one way to get started, and paymints.io can assist. Contact us today to schedule a demo so you can find out how our digital payment platform helps you help your clients!