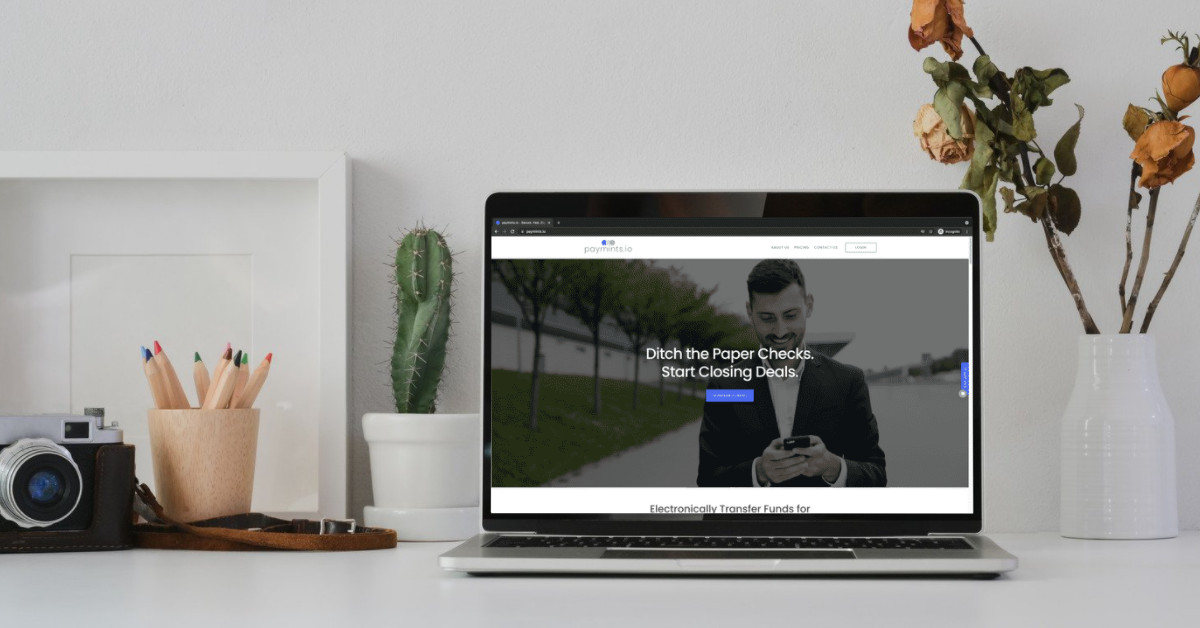 For years, personal checks, cashier's checks, and wire transfers have held their place as the traditional methods for paying earnest money deposits and real estate down payments. But in an age where both real estate professionals and their clients are more focused on convenience, speed, and security, these payment options are no longer ideal. Consumers expect more security, and real estate professionals want to provide a better service and a smoother real estate process for their clients.
That's why many real estate professionals are opting to use electronic payment systems for the transfer of real estate down payments and other deposits related to a real estate transaction. Doing so eliminates many of the issues involved in the other payment methods, subsequently improving the closing process for all parties involved.
While there are quite a few electronic payment systems available for home buyers to use to make real estate down payments, many real estate professionals recommend using paymints.io. This robust, feature-rich, white-labeled digital platform enables title companies and real estate brokerages to accept digital money transfers, saving everyone money and time. Read on to see why paymints.io is the ideal money transfer platform for the real estate industry.
1. Created by Real Estate Professionals
The paymints.io team is comprised of experts in technology, real estate, lending, and title insurance. Having spent more than a decade in the industry, they know full well the pain, stress, and inconvenience suffered by having to schedule time to pick up checks and wait for them to clear. They also understand the many issues that come with checks and wire transfers, such as bounced checks, incorrect wiring instructions, fraud attempts by scammers, and delayed closings.
Paymints.io was designed specifically for the real estate industry, by real estate professionals. With the goal of eliminating wire fraud and the use of paper checks, paymints.io allows home buyers to send earnest money deposits and real estate down payments securely and effortlessly.
2. Security
The real estate industry is a favorite target of hackers, scammers, identity thieves, and cyber criminals. Cashier's checks and wire transfers are just some of the ways scammers attempt to fraudulently acquire funds from unsuspecting buyers, sellers, and real estate professionals.
Using paymints.io to transfer funds for real estate down payments and many other types of real estate transactions significantly reduces the risk of fraud. Paymints.io features AES-256, a bank-level encryption that is practically unbreakable and considered the strongest encryption standard. Personal information is kept private according to strict regulations, and paymints.io never has access to bank account or routing numbers. This is just another way that paymints.io reduces fraud and protects their clients.
And, with secure and compliant real-time tracking of every transaction, paymints.io serves to keep personal bank information private while also ensuring that users are exactly who they say they are.
3. Convenience
With paymints.io, there is no need for home buyers to find time to travel to the bank to get a check and then meet with their agent to hand it off. There is also no need to wait for checks to clear. In fact, there is no need to go to the bank or find time to meet with anyone in person at all to deal with real estate funds. You can simply send your client a request for funds directly through the paymints.io platform.
Buyers can instantly transfer their real estate payment or other fees and deposits from the convenience of their own home using the paymints.io platform on their phone or laptop. Paymints.io also features Single Sign-On (SSO) which allows users to log in once with one set of credentials, improving enterprise security and identity protection and streamlining the user experience.
As an added convenience, the platform also offers client and vendor disbursements. The bi-directional platform enables money to be both sent and received, enabling real estate agents to get commissions from brokerages, or townships and attorneys to collect their fees. Essentially, anyone involved in the process can collect their money quickly and efficiently, without having to leave their offices.
4. Lower Fees
In addition to the time wasted getting paper checks, banks also charge fees for cashier's checks. Likewise for wire transfers. While there can also be fees involved when using paymints.io, they are much lower than a bank. Additionally, real estate brokerages can choose from several monthly subscription options that best suit their needs based on the number of transactions and the size of the business. The lower fees also make paymints.io a more feasible option for sending client and vendor disbursements.
5. It's Easy to Use
While some money transfer platforms have a steep learning curve or are just riddled with glitches and other performance issues, paymints.io is easy to use for all. The intuitive platform features a simple interface that you can get started using right away. And home buyers will have no problem entering their account details, enabling them to easily transfer money within just a few minutes.
6. White Label Applications
Some electronic money transfer platforms feature only their own logos and branding. When real estate professionals use these, it not only looks unprofessional, but home buyers might also be wary of using such applications. Using paymints.io enables a real estate brokerage to gain access to a revolutionary product platform that identifies as your company's own brand. The paymints.io team will customize the images and styling to improve consumer confidence with your clients.
7. More Features than Competitors
In addition to the white label applications, paymints.io also offers additional features not found in competitor platforms. These include enabling consumers to transfer cash-to-close funds for refinancing, as well as disbursements for clients, vendors, and many other transactions. Paymints.io can even generate automated escrow agreements for parties involved in a real estate transaction.
8. It's Ideal for Title Companies
Paymints.io is a cloud-based solution that requires no downloads. The system allows you to complete a digital closing process in a truly secure fashion, with a secure digital funds transfer rather than having to mail a paper check or go to the bank to request a wire. Also featuring the ability to send online mortgage applications at the push of a button and receive remote online notarizations, the closing process can be smoother than ever and take unnecessary stress off your busy, operations team.
9. It's Better for the Environment
The manufacturing of paper, like a paper check, creates gaseous effluent and/or particles that are harmful to our planet. Using paymints.io eliminates this waste and also helps save the planet by minimizing trips to the bank where you may be sitting in traffic, releasing harmful CO2 emissions. Paymints.io allows all involved in a real estate transaction to do their part to save the environment by reducing our carbon footprints.
In Conclusion
It just makes sense to use an electronic money transfer platform for bi-directional, real estate payments instead of paper checks and wire transfers. And it makes even more sense to use an electronic money transfer platform specifically designed for the real estate industry to protect your clients and your company from real estate fraud.
Get started using a secure electronic money transfer system and improve the home buying process for all parties involved. Schedule a Demo of paymints.io today.