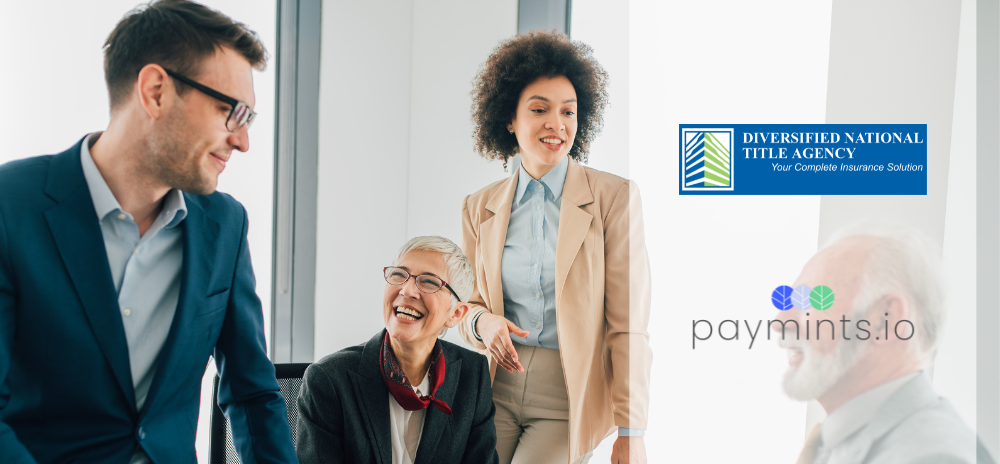 How Diversified National Title Agency utilizes the secure paymints.io payment platform to achieve its goal
At the start of every endeavor, and yes, a real estate transaction can seem like a huge endeavor, it's important to keep the goal in mind. For the leadership team at Diversified National Title Agency, the goal is to ensure accuracy, transparency, clarity, and professionalism at every step of the process. To achieve such a goal requires sound operational practices, a team willing to go above and beyond, and of course, cutting-edge technology.
With digital acceleration in full swing in the real estate industry, what technology to use and how to implement is top of mind for most title agency leaders. Some technology solutions, like e-recording, have been around for quite some time but more innovative solutions around remote online notarization and transferring of payments are now taking center stage. Many of these solutions, offered as a service, require little to no coding and can be implemented into the workflow within a matter of weeks, if not days.
"We've been able to build a successful title agency by keeping our clients front and center," said Brent Warner, President of Diversified National Title Agency. "Today, our clients are demanding a digital, transparent, and secure experience and paymints.io is just the right partner to deliver that promise."
Diversified National Title Agency offers a vast range of solutions to ease the pain of what is often a friction-filled and complicated process of transferring real estate. By leveraging decades of experience and of course, technology. Diversified National Title is able to streamline the real estate transaction. Services offered include title searches, title insurance, and escrow services.
"From our initial conversation with Diversified and learning about their business, I knew we would be a great match", said Jason Campbell, VP of Sales at paymints.io. "It's really nice to see a growing organization with a solid foundation understand the needs of their client and take the time and energy to learn about tech solutions that can help propel their business even higher."