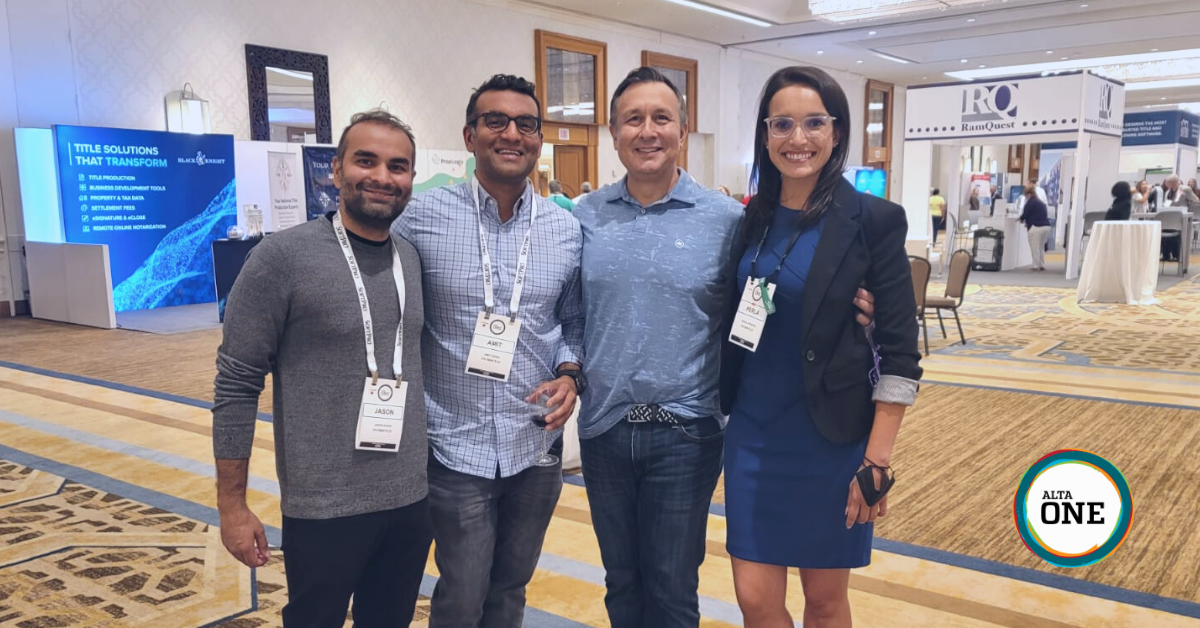 We're Living in the Future! Digital Payments are HERE!
It was exciting to see the first-ever panel focused on digital payments. It was titled:  "Wires, Payment Apps, and Real-Time Payments: Where to Start?" and hosted by Candi Slobodnik, the Midwest Underwriting Counsel for Agents National Title Insurance Company; Steve Ledford from The Clearing House; and Chris Hultzman, the VP of Underwriting Counsel with First American. The panel started off with accepting shifts in both consumer and enterprise behavior and recognizing the fact that digital payments in real estate needs to be discussed. Current methods of sending and receiving real estate payments involve checks and wires but it's time we explore digital solutions and payment platforms like paymints.io. As the real estate industry continues to evolve and accept digital solutions for other processes like virtual showings, RON (more on that later), e-recordings, e-notes, and e-closings, how will ACH, RTP, and Push to Card technologies be adopted?
It was only several months ago when title agencies wouldn't mind dealing with the mountains of paper checks and manual processes to reduce wire fraud that paymints.io brought to market a solution to eliminate paper checks and reduce wire fraud. The support we've seen from the title agency community has been astounding and consumer adoption has been exactly what we expected – they want and need this! We're glad to be here in this position today to have the ALTA whose vision it is to "serve all providers supporting the real property transaction, focus on their common issues, and prepare them to be successful in a changing marketplace" bring to the forefront and shed light on digital payments.
Although there is a long and bumpy road ahead for widespread adoption from regulators, national title underwriters, trade groups, and title agencies, we can look to guidance from our friends over in the RON space! 
Remote Online Notarization (RON) Has Paved the Way
In 2011, Virginia became the first state to authorize video and audio enabled or remote online notary services. Since then, more than 30 states have passed legislation allowing for remote online notarization (RON). However, a decade later since the first state-approved RON, there remains to be federal legislation passed allowing for national guidance for RON. The Securing and Enabling Commerce Using Remote and Electronic Notarization Act of 2020 (SECURE Notarization Act) is currently up for a vote and would permit immediate nationwide use of RON. Until then, there is a gray area around out-of-state and interstate notaries. Nonetheless, the real estate and title industry participants have accepted and adopted that RON is a must in our industry – because the consumers want and need it!
A lot can be learned from the path RON has taken from 2011 to today! The similarities between RON and digital payments are uncanny. Industry participants and consumers are driving towards technology solutions meanwhile regulators and other governing bodies are slow to adopt. We're a decade into RON and still waiting but RON has done its part to smooth out a bumpy road for technology adoption like digital payments. Paymints.io is grateful for the trailblazers like Notarize.com and NotaryCam.
ALTA is More Important Now Than Ever Before
Founded in 1907, ALTA has been the voice of title agencies and title underwriters for over a century! But walking the exhibit hall, tending to the booth, and scouring the hallways, the buzz and excitement within our industry is unparalleled. Almost every conversation we had was focused on what we can do as an industry to propel our growth – the collaboration and sense of community were profound. Through its governance committees, Good Deeds Foundation and other engagement groups, ALTA is delivering on its mission and here at paymints.io we're a proud member and committed to driving the mission forward!