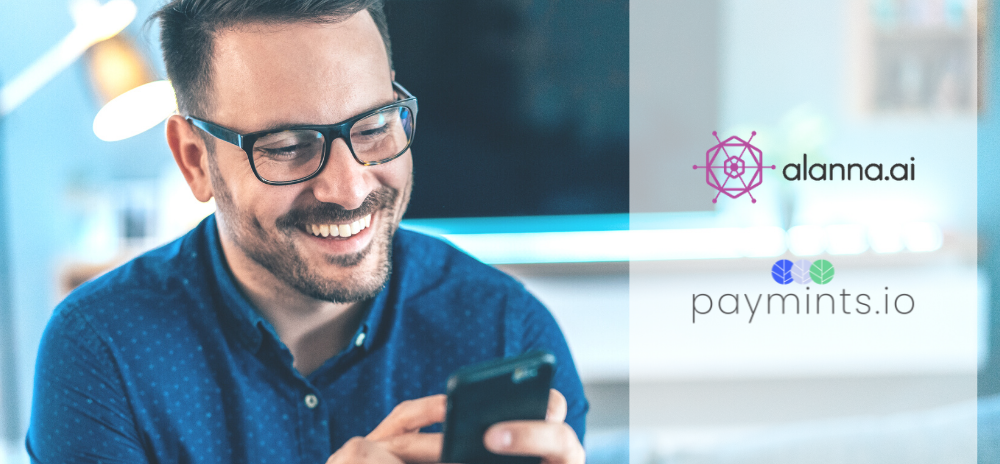 We are thrilled to announce our partnership with Alanna! Alanna, an AI-powered conversational assistant meets paymints.io, an automated, digital, real estate payment platform! With our shared passion and vision for streamlining the real estate closing process, it was a no-brainer to join forces and take on the real estate industry together. Check out our Industry Relations Manager, Perla Aparicio's, fireside chat with Hoyt Mann, Alanna's Co-founder and President.
Perla Aparicio: Hoyt, thanks for joining us and we're excited about this partnership! What exactly is Alanna?
Hoyt Mann: Alanna is a conversational AI assistant designed to supercharge title companies 24×7. The virtual assistant can not only provide general status updates and file-based questions but can also share closing cost estimates and online forms! Saving the title agent time and money. 
Perla Aparicio: With everyone living in an on-demand world, how important is it to give customers a timely response?
Hoyt Mann: Timing is everything but so is the accuracy of the response. The difference between static answers and intelligent answers means the difference between satisfaction and frustration. When you have Alanna understand what is being asked and respond with the information requested, without a human in the process is a huge win. 
Perla Aparicio: What type of technology do you use?
Hoyt Mann: We've built Alanna's brain with the ability to provide status updates to borrowers, real estate agents and other parties almost instantaneously. The delivery mechanism we chose to use is texting coupled with a website chat widget.

Perla Aparicio: Do you feel that texting is the most effective delivery method?
Hoyt Mann: Most everyone in the closing process, spanning generations and geographical locations, utilize text messaging. If your operation can merge into the flow of what customers are using daily, sometimes hourly, this creates a high chance for a successful and smooth closing experience.
Perla Aparicio: So, texting obviously beats email?
Hoyt Mann: Hands down, texting beats email in connecting with customers. There is no other communication channel with that kind of effect with open rates in the high 90th percentile within minutes of being sent.
Perla Aparicio: We're clearly on the same page about using technology to meet the demands of our clients. What are you most excited about our partnership?
Hoyt Mann: As we continue our mission to automate the workflow of title agencies, we feel payments, whether it be earnest money deposits, client proceeds on cash-out refinance, or payments to vendors like real estate agents or mortgage brokers, is a space that needs a lot of disruption.
Perla Aparicio: So, you don't think paper checks are the future?
Hoyt Mann: Well, I would find it hard to believe that anyone thinks paper checks are the future but when sending and receiving money in and out of escrow accounts, the market needs a secure and compliant solution, which I believe paymints.io has created!
Perla Aparicio: We certainly have! We're excited to continue building together and provide a better, on-demand customer experience!
Hoyt Mann: Excited to be a part of it. One of Alanna's most vital abilities is guiding customers to the answers they are looking for without requiring a human to be involved. When discussing earnest money deposits or cash to close on refinance, Alanna can directly point customers to the title company's white-labeled paymints.io landing page for a secure, digital transfer for funds. It sounds beautiful!

Why Alanna?
Alanna has the power to give intelligent and satisfactory answers 24×7 – no being put on hold looking for the right person, no voicemail or phone tag, no email that takes a while to get a complete response.

To learn more about Alanna, please reach out to Hoyt Mann, President & Co-founder of Alanna at hmann@alanna.ai.

Why paymints.io?
Paymints.io is a secure, digital, white-labeled SaaS platform that allows buyers to transfer funds for real estate transactions. Escrow holders and settlement agents can also disburse funds using our proprietary platform.

To learn more about paymints.io, schedule a demo with our National Account Executive, Lucas Miller.